Offerings...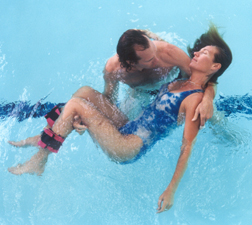 Water Healing Therapy - Warm water aquatic bodywork with a combination of floating movements, tissue mobilization, cradling, stretching, and an optional sequence underwater. This is a one hour session. Typical Cost: $125 (although sliding scale if needed)
Contact Christian to set up a session
Water Healing Therapy Instruction - Classes and instruction for individuals, couples and groups to learn how to work with others in the water.
Wave Yoga - The entire universe is composed of energy waves. Learn how to cellular surf by catching and riding these ever present waves. A series of movements and asanas in the water synchronized with the breath.
Water Circles - These are ritual gatherings in the warm pool, utilizing breath, sound, and movement to deepen the connection to the water spirit and the water within each of us.
Dolphin Play - Group movement and contact in the water, improvisational, playful, and deeply nourishing.